Kandy Platform Goes Live Changing Contextual Collaborative RTC
San Francisco, CA, September 16, 2014 – This evening, GENBAND is formally launching Kandy, a disruptive real-time communications software development platform, designed to help companies build communications that are more integrated and immediate – built right into the way their customers interact with them and their employees work.  Kandy combines the simplicity of the Web and mobile applications with enterprise-grade real-time communications capabilities, making it more cost-effective and expeditious to enable communications applications.
Kandy was previewed earlier this year at GENBAND's annual customer event, Perspectives 14, inviting customers and partners to participate in development leading up to today's formal launch. Many of these companies will be revealing creative and compelling "apps" which were made possible in part by the Kandy platform. Hundreds of software and communications professionals are gathering in the epicenter of Silicon Valley this evening, to experience real-time communications embedded into dozens of scenarios including consumer applications, and business applications in healthcare, financial services, hospitality, and more.
"Kandy capitalizes on our market-leading solutions that are already supporting many of the world's largest communications service providers and enterprises," said David Walsh, CEO of GENBAND. "Kandy strategically combines our recent acquisitions of fring and uReach with our WebRTC and cloud offerings to deliver the most comprehensive real-time communications offering for mobile and Web."
One of the companies showcasing its customer engagement solution using Kandy is SAP.  "At SAP, we are redefining the future of customer engagement," said Nayaki Nayyar, senior vice president, Cloud for Customer Engagement, SAP. "We are leveraging GENBAND's Kandy to further enhance the customer experience and bring contextual unified communications to our customer engagement offering."
Other companies showcasing Kandy applications include Atlas Communications, Bloomfire, InfoStreet, Tech Mahindra and VIZICOM. Kandy demonstrations will be featured on Samsung devices.
Additionally, GENBAND will be demonstrating their Kandy platform with IBM's industry-leading social networking solution, IBM Connections, which allows organizations to integrate social solutions with critical business applications and people-centric processes to empower employees, increase workforce productivity and deliver exceptional customer service.
Kandy's Platform-as-a-Service framework includes APIs, SDKs and quick starts that are pre-built applications like video shopping assistance. Communication in context with business in real-time means more engaged customers and employees. With Kandy there is no longer a need to leave an application to start a conversation, help a customer, get a live update or ask a question.  It allows the individual to quickly see who is available to resolve an issue, or Kandy can find the right person to address the problem. 
"The Kandy Platform is designed to allow anyone from IT to business owners to embed real-time video, voice, presence and text into their Web and mobile applications," said Paul Pluschkell, Executive Vice President of Strategy and Cloud Services for GENBAND and Kandy Co-Founder.  "With just a few clicks developers can connect customers, employees and even products (IoT) into their existing or new applications. Kandy gets them to market faster and more cost effectively. "
"GENBAND's Kandy Platform-as-a-Service signals a shift in the market and in the way people communicate," said Jim Lundy, Founder and CEO of Aragon Research. "Service providers and enterprises needing scalable and reliable next-generation communications capabilities will now be able to develop mobile and Web applications that leverage Kandy. Kandy represents a catalyst in the move towards cloud-based embedded communications – conversations will happen without dialing a phone number. Contextual, embedded communications will change how we get things done."
The Kandy portal is launching today at 6 p.m. PST and is available for free developer trials at kandy.io. The portal includes a developer area, application showcase, and a community in addition to developer API, SDK and quick start tools.
Watch this short video for an introduction to Kandy: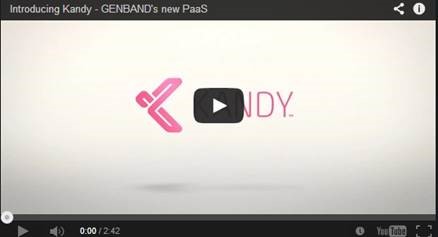 About GENBAND
FROM THE CORE TO THE EDGE TO THE EXPERIENCETM, GENBAND is a global leader in smart networking solutions for service providers and enterprises in over 80 countries. The company's technology improves IP networks by making them more scalable, secure, profitable and efficient. GENBAND's market-leading technology supports multimedia voice, data and video sessions and fixed-mobile unified communications applications that scale on public and private networks. With a flexible, cloud-ready platform, GENBAND's IMS, edge and application solutions help its customers compete effectively by increasing revenues, improving profitability, and attracting and retaining customers. To learn more, visit us on the web at www.GENBAND.com.
GENBAND, the GENBAND logo and icon are trademarks of GENBAND.
SAP and all SAP logos are trademarks or registered trademarks of SAP SE in Germany and in several other countries.
All other product and service names mentioned are the trademarks of their respective companies.
SAP Forward-looking Statement
Any statements contained in this document that are not historical facts are forward-looking statements as defined in the U.S. Private Securities Litigation Reform Act of 1995. Words such as "anticipate," "believe," "estimate," "expect," "forecast," "intend," "may," "plan," "project," "predict," "should" and "will" and similar expressions as they relate to SAP are intended to identify such forward-looking statements. SAP undertakes no obligation to publicly update or revise any forward-looking statements. All forward-looking statements are subject to various risks and uncertainties that could cause actual results to differ materially from expectations The factors that could affect SAP's future financial results are discussed more fully in SAP's filings with the U.S. Securities and Exchange Commission ("SEC"), including SAP's most recent Annual Report on Form 20-F filed with the SEC. Readers are cautioned not to place undue reliance on these forward-looking statements, which speak only as of their dates.
Company Contact:
Dennis Watson                                                                                    
GENBAND
+1 (972) 521 5921        
Dennis.Watson@genband.com
Original post here.