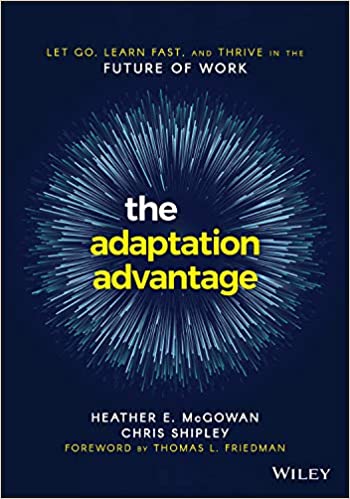 Read David Walsh's Piece in " The Adaptive Advantage"
A guide for individuals and organizations navigating the complex and ambiguous Future of Work
Foreword by New York Times columnist and best-selling author Thomas L. Friedman
Technology is changing work as we know it. Cultural norms are undergoing tectonic shifts. A global pandemic proves that we are inextricably connected whether we choose to be or not. So much change, so quickly, is disorienting.
David Walsh has been a disruptor and innovator across a range of technology driven markets over the course of his 30+ year career. A proven leader, he has built, scaled and sold companies from start-ups to global enterprises, generating $3.75 billion of cumulative gain for investors and management's teams by combining his vision and operational expertise.  Mr. Walsh has a track record of growing businesses both private and public, organically and inorganically through M&A to affect industry consolidations.  He has deep knowledge of the capital markets including private equity, venture capital, bankruptcy / restructuring and turnarounds including financing across the entire capital structure, and has served as Chairman, CEO or President of five publicly traded companies.
Mr. Walsh has played key roles in the development of transformational technology:
Was first to build an Automatic Trading System "ATS" which used real time market-data and analytics to calculate Swaps and FRA's, transforming how Money Markets were traded.
Was one of the first to identify the market for web content to be easily accessed resulting in the creation of the Web Hosting Industry.

By i

dentifying the unique networking requirements of financial traders was able to create the first Financial Industry Extranet which created a community that connected more than 2,000 trading floors globally counting the largest 25 financial firms as his customers.

Enabled carriers and ISV's to access the embedded communications space by being the first to create a multi-tenant white label CPaaS offering which has been adopted by AT&T and IBM.
Mr. Walsh began his career as a technology expert on Wall Street, moving up the ranks quickly as networking and software systems were evolving rapidly. At Drexel Burnham Lambert Trading Corp., he managed all aspects of trading floor technology from 1985 – 1988.  He was instrumental in developing and implementing technology that proved instrumental in driving DBL Trading Corp. from a boutique operation to the market leader in commodities trading.
His success at Drexel led him to be recruited to Garban & Garvin Guybutler from 1988 – 1991 where he transformed their entire trading technology.  At GGB he redefined the OTC money markets being the first to create electronic brokering of Swaps and FRA's.
His reputation for transforming trading technology led him to be recruited to serve as lead advisor to the four Presidents of the New York Commodities Exchanges (NYMEX, Comex, CSC, NY Cotton/Finex) from 1991 – 1994 to rebuild their entire trading floor technology as part of a planned move to a new combined facility.  While at the Exchanges, he led the effort that doubled their market data revenues.
In 1993 he co-founded Voyager Networks, which became one of the world's first web-hosting business which he merged with GlobalCenter and sold to Frontier Communications.
In 1995, drawing upon his background applying disruptive technology into the financial trading markets he founded IXnet, the world's first global financial extranet.  Backed by Citibank Venture Capital (CVC) he received funding from IPC Communications, the market leader in financial trading systems.  IXnet ultimately connected over 2,000 banks and financial firms.  In 1999 he rang the bell at the American Stock Exchange when IPC was recognized as the fastest growing company on the Exchange that year.  IXnet went public on Nasdaq in the summer of 1999; after the stock price rose from $15 to over $60 in six months, the company was acquired by Global Crossing for $3.8 billion. Mr. Walsh went on to become President and COO of Global Crossing.
In 2001, Mr. Walsh along with a small group of partners joined Dick Cashin to form the Private Equity firm One Equity Partners.  As a Senior Partner he was responsible for telecom and technology investments for Bank One, which merged with JPMorgan Chase & Co. becoming their private equity business.  For nearly twelve years, Mr. Walsh was responsible for over $2 billion in deals which included sourcing, transacting, developing and selling companies including Telerate (to Reuters) and WestCom (to IPC/SilverLake Partners), and Ñetas (to ZTE).
In 2013, upon the spin out of OEP from JPMC, Mr. Walsh continued to manage two OEP portfolio companies as Chairman and CEO of GENBAND and Chairman of Ñetas.  In 2014, leveraging the over 400 patents in voice, video, messaging and real time communications held by GENBAND, Mr. Walsh then co-founded Kandy, one of the world's first Communications Platforms as a Service (CPaaS) which was adopted by IBM and AT&T as their underlying capability for delivering cloud communications and collaboration solutions.  Mr. Walsh orchestrated the merger of GENBAND with public company Sonus in 2017 forming Ribbon Communications (Nasdaq: RBBN) creating the market leader in real time communication as well as the sale of Ñetas to ZTE in 2018.
Mr. Walsh has served as Chairman of several companies, including Voyager Networks, IXnet, Last Mile Connections, Telerate, Ñetas, Vercuity, Westcom and GENBAND. He has also served on the boards of IPC, iXnet, Telwares, Saavis and Aligned Energy. Currently he is Chairman of the board of Isoolate, is on the boards of Pax8, Mintus, and is a board advisor to Realm Financial Group and CreateNU.
He holds degrees from Valdosta State University, and New York University, including a BBA in business, management, marketing and services, and an MPS in telecom, tech and media. He has been honored as one of the top leaders in telecom and technology by multiple organizations and publications.
Mr. Walsh lives with his wife and 3 children in NY.  As a competitive runner and cyclist, he enjoys competing in masters' events throughout the tri-state area.