GENBAND Global Day of Service
PLANO, TX, May 26, 2016 – GENBAND™, a leading provider of real-time communications solutions, today announced as part of its year-round Corporate Social Responsibility (CSR) efforts the kickoff of its sixth annual Global Day of Service with more than 75 volunteer activities scheduled in more than 25 countries. Each year on June 1st, GENBAND's global employee base participates in volunteer activities benefiting non-profit agencies and charitable organizations all around the world. Since the inception of the Global Day of Service or "GENBAND Day" in 2010, GENBAND employees have dedicated more than 50,000 hours to community service.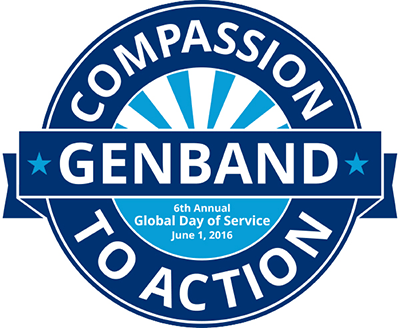 "Our Global Day of Service has become part of our fabric and DNA at GENBAND and it's something that our team members take extreme pride in every year," said Robin Wright, Executive Vice President of Human Resources and Corporate Operations at GENBAND. "The activities, individuals and organizations that we serve have special meaning to us and spending time giving back to them during not only this day, but throughout the year, is our way of showing our appreciation for all of the great services that these organizations provide in communities throughout the world."
Wright, along with CEO David Walsh, other GENBAND executives and local team members will be volunteering at GrowNYC, a non-profit created in 1970 whose mission is to empower all New Yorkers to secure a clean and healthy environment for future generations.
GENBAND employees in Galway, Ireland will be working with Jigsaw Galway, a non-profit that supports local youth with mental health issues. On May 27th employees from the GENBAND Galway office will be participating in a fundraising "Pop-Up Shop" during which they will be selling new clothes, electrical goods, gift ideas and toys with proceeds benefitting Jigsaw Galway. 
"Everyone at Jigsaw Galway is so honored and delighted to have been selected by the team at GENBAND Galway to be their chosen charity for GENBAND Day," said Justin McDermott, Fundraising Manager at Jigsaw Galway. "It has been such a pleasure working with them to develop the GENBAND fundraising Pop-Up Shop. Not only are the funds that we will raise of vital importance, but the awareness generated in our community around supporting young people and their mental health is fantastic. One-in-three Galway youth experience mental health distress. This day and GENBAND's support will assist us in ensuring that when young people come to us in need of help, we will be there for them." 
For more information on the GENBAND Global Day of Service, please visit the Global Day of Service page at www.genband.com/gbday and watch the video of 2015 worldwide volunteer activities.
Follow GENBAND on Twitter and Facebook for updates on its 2016 Global Day of Service and use #GBDay16 to join the conversation.
In addition to many global individual activities planned by GENBAND teleworkers and remote employees, below is a summary of the company's volunteer events for GENBAND Day.
Frisco and Plano, Texas
Adopt-a-Street clean-up
Compassion to Action Walk for a Cause
Dallas Zoo
Frisco Family Services
Habitat for Humanity Restore
Minnie's Food Pantry
Plano Animal Shelter
Plano Community Garden
Plano Parks & Recreation clean-up – Oak Point
Survivor Joe Bracelet Making
The Plaza Senior Living Center
Billerica, Massachusetts
Town of Newbury Port Beach clean-up
Little Community Farm field work
Restore (Habitat for Humanity)
Chatham County Junior Appalachian Musicians JAM Camp
Durham Food Bank
Durham Museum of Life and Science
Hope Reins
Special Olympics
Survivor Joe Bracelet Making
Triangle Heart
United Way – Teaming for Technology
Other US Regional Offices Volunteer Activities
GrowNYC (New York)
Habitat for Humanity (Ft. Lauderdale)
Queeny Park Gardening  (St. Louis, Missouri)
Ottawa, Toronto and Canadian Regional Offices
Crystal Bay Center for Special Education (Ottawa)
Maissonnette des Parents (Montreal)
Ottawa Boccia Club
Ottawa Community Housing
Ottawa Food Bank
Ottawa Humane Society
Ottawa Working Over Thyme
Silver Springs Farm (Ottawa)
The Debra Dynes Family House (Ottawa)
The Peace Ranch (Toronto)
Regional Offices in Europe, Middle East and Africa (EMEA)
Ferme du Piqueur renovation work (France)
Galway Hospice (Ireland)
Gukovka Community Children's Playground clean-up (Russia)
International Kinderhaus (Germany)
Jigsaw Galway (Ireland)
Libera Organization (Italy)
Mehrgenerationenhaus Markdorf (Germany)
San Martín Church (16th Century) in Mazarulleque Village Restoration activities (Spain)
The Animal Sanctuary UK (United Kingdom)
Asia Pacific Regional Offices
Guan-Du Nature Park (Taiwan)
Hong Kong Hike Trail Clean-up
Salvation Army (Australia)
The Society for the Relief of Disabled Children fundraising activities (Hong Kong)
Caribbean and Latin America Offices
Hospital Infantil de México
La Casa del Arbol de la Vida (Mexico)
Lar Batista Esperança (Brazil)
Lar dos Velhinhos de Campinas (Brazil)
Parque Jardin López Velarde (Mexico)
Santa Isabel Casa de Repouso (Brazil)
About GENBAND
GENBAND is a global leader in real-time communications software solutions for service providers, enterprises, independent software vendors, systems integrators and developers in over 80 countries. Kandy, its award-winning, disruptive real-time communications software development platform, is built from the company's global telecommunications network and security technologies. The platform enables these companies to easily embed a full suite of voice, video, chat, screen-sharing and collaboration capabilities into their existing business, web and mobile applications.  The company's Network Modernization, Unified Communications, Mobility and Embedded Communications solutions enable its customers to quickly capitalize on growing market segments and introduce differentiating products, applications and services. GENBAND's market-leading solutions, which are deployable in the network, on premise or through the cloud, help its customers connect people to each other and address the growing demands of today's consumers and businesses for real-time communications wherever they happen to be. To learn more visit genband.com.
GENBAND, the GENBAND logo and icon are trademarks of GENBAND.
Company Contacts:
U.S. Press:
Dennis Watson
GENBAND
+1 (972) 521-5921
Dennis.Watson@genband.com
International Press:
Catherine Berthier
GENBAND
+1 (646) 741-1974
Catherine.Berthier@genband.com
Original post here.